Overcome Matters
Top 12 challenges in the construction industry
Thursday , January 05, 2023
3 minutes read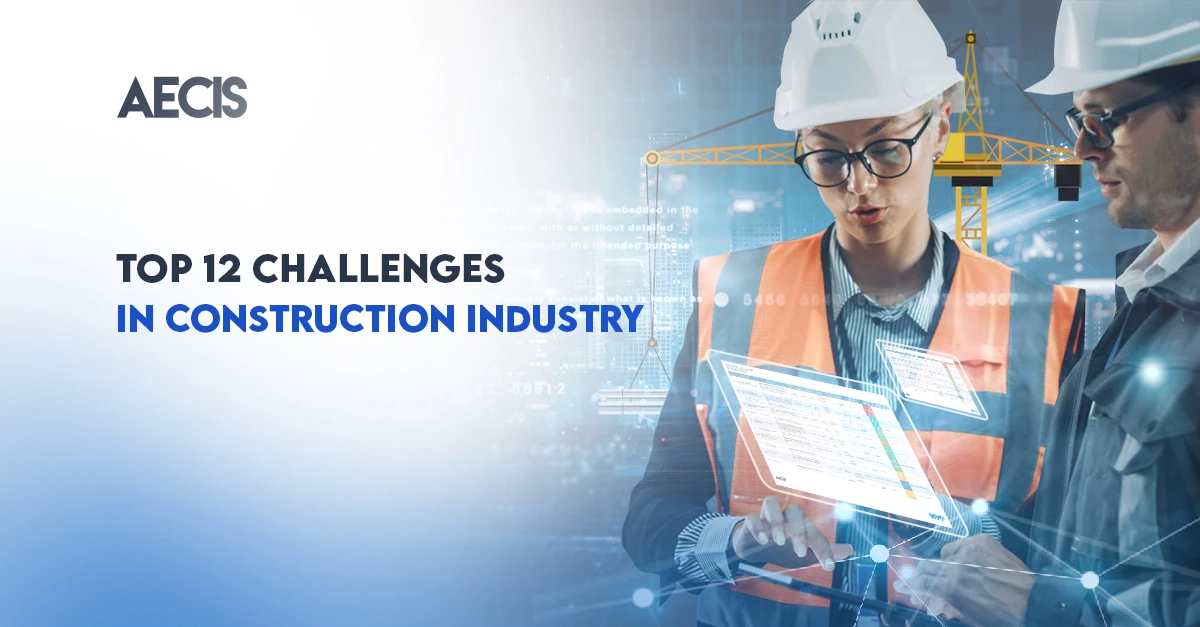 The construction industry has been growing nonstop and facing many challenges, including communication, scheduling, documentation, and documentation problems. This article helps you learn 12 vital issues in the construction sector today.
1. Keeping up with compliance regulations
Keeping up with all regulations takes work since different levels of regulations impact many companies. This includes worldwide compliance rules and country-specific laws and regulations.
It's better to relocate regulation-related messages to a specific place where you can find them easier. For instance, you can choose a project management software such as AECIS to conduct that.
2. Working on a scheme
Even the most knowledgeable professionals need to correct scheduling if managing all manually. Fortunately, modern technology can mitigate this to the highest degree with various automation systems, project management applications for different devices, virtual task boards, etc.
3. Slow technology adoption
Mainly the construction industry needs a faster technology adoption speed. Even though many business owners can acknowledge various benefits that newer technologies can provide. However, it's still fairly common for technical departments of construction businesses to have relatively small budgets.
4. Communication issues
Problems within a construction project are directly related to the need for faster communication between stakeholders. This massive problem is easily solvable by modern-day technology through AECIS.
Construction project management software such as AECIS can easily prevent minor problems before they become more prominent. It's an example of technology bringing massive potential benefits to construction companies.
5. Managing your documentation
Generally, there are many documents to deal with, such as contracts, receipts, insurance certificates, material orders, etc. Unfortunately, solving all that often makes the document management process slower and more prone to human mistakes.
Therefore, it's better to help your entire project work primarily paperless. Different systems and solutions can help document management, such as categorization, due dates, project deadlines, etc.
6. Cash flow issues
Fund management is a widespread problem for many construction companies. The only viable solution for these issues, aside from "getting a steady cash flow," is to have an open business credit line for "worst-case scenarios" or to get through that challenging period between your bills being due and your project is completed and paid for.
7. The problem of blaming
It is difficult for construction projects to always go smoothly. Blaming begins when damage occurs. For example, the contractor blames subcontractors, the client blames the contractor, and gets reprimanded by the project manager. The "blame game" is completely pointless and only prolongs the particular time. This is why a specific policy can help with a problem such as a builders risk policy.
8. Skilled workforce shortage
This might be one of the biggest problems of the construction industry to this date. However, it's also possible for actual construction companies to try and mitigate the effects of this issue for themselves.
Two of the most extensive potential approaches to this are mentoring and construction staffing agencies. On the other hand, staffing agencies are tasked with covering most of the recruiting and pre-screening, offering workforce exactly when you need them.
9. Vandalism/theft on site
It's awful for the construction company since each missing or unusable material would decrease the overall margin of a project. Fixing this problem requires investments in your standard surveillance equipment, such as fences, cameras, alarms, more on-site lighting, more closed containers to store materials in, and so on.
10. Uneven equipment maintenance/replacement
Many companies need to pay more attention to construction equipment costs. It is also one of the biggest reasons for project overrun costs since replacing your equipment mid-construction means additional expenses. Extra expenses are easily transformed into less revenue from a project, and the construction equipment tends to cost more. Some methods for this problem include keeping a close eye on equipment and finding a way to if your equipment breaks down mid-construction.
11. Slow-pay clients
One of the most general cases is for a client to request a mid-project change and then forget to pay for the project's completion. To avoid these issues, get a signed change order for each change in your project if anything was requested after the initial plan.
12. The lack of reliable subcontractors
Subcontractors on the market generally are massive. And it may be uneasy to pick one for the job based on their looks. An excellent way to avoid choosing an unreliable contractor would be to ask your vendors or material suppliers for recommendations.
In summary, to overcome the primarily significant construction issues, project management software such as AECIS maybe helps you best. Contact us for a trial.
Get notification
when we update the latest article?