Technology innovation
4 benefits of using construction management software
Monday , October 31, 2022
2 minutes read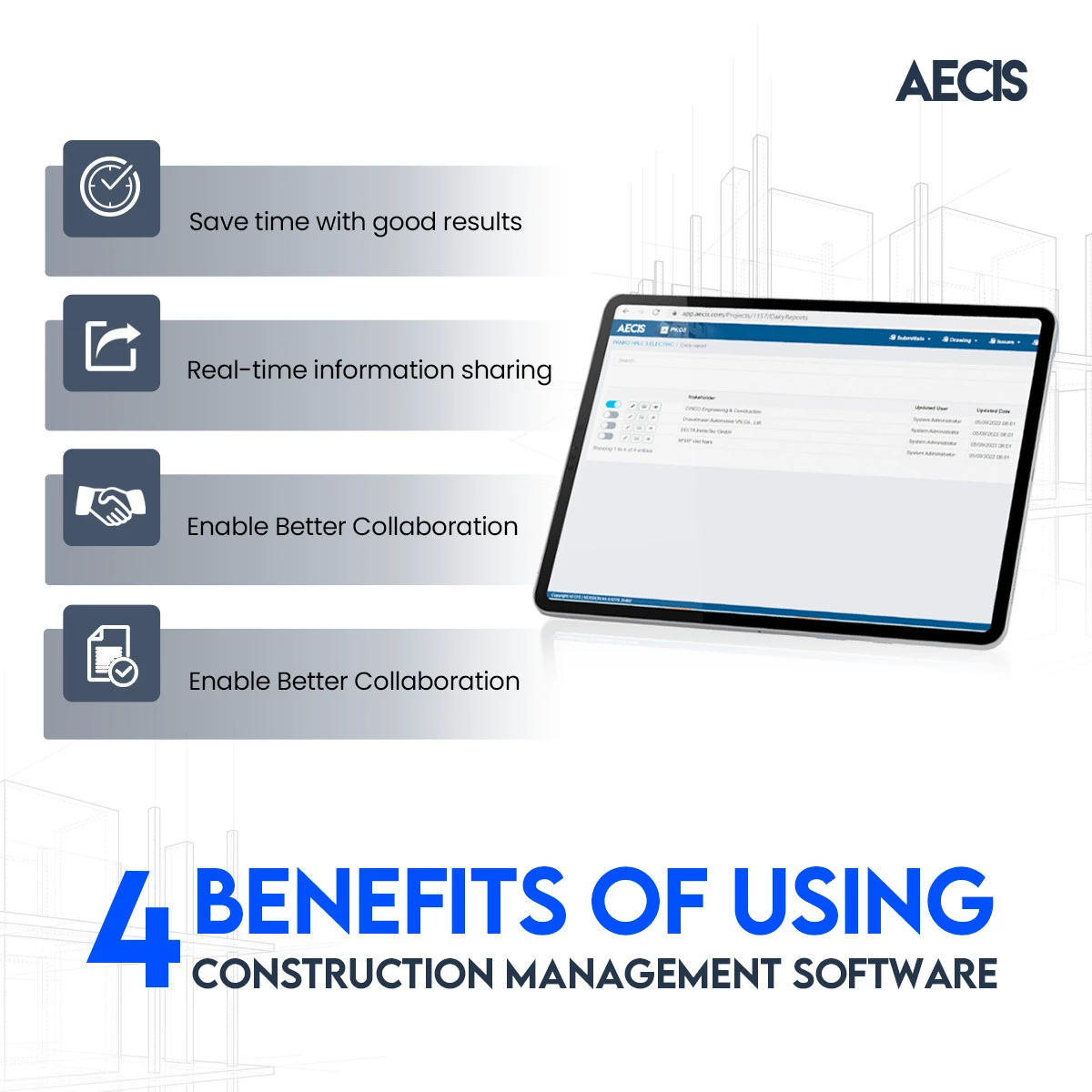 Do you and your team still manage your construction projects manually? If so, you might spend more time handling papers and plans than putting together your estimates and bids.
Construction firms that adopted new technology for the first time received the benefits of competitive advantages over others. However, adopting new technology can be challenging. First, you must get budget approval to purchase software to provide a return on investment. Then you have to receive the stakeholders' agreement to break their methods and embrace the latest technology.
In truth, construction management software is a great solution to ease tech adoption in your project control with the advantages below.
Save time with good results
The construction industry has buzzing activities and has been growing for the last few decades. However, construction management professionals often face difficulty ensuring that projects are completed on time, efficiently, and cost-effectively. Therefore, the construction software advent is real luck for many construction organizations, as they are an ideal solution to save time and create many high achievements.
Real-time information sharing
Most modern construction software suites are well-equipped to store and manage vast amounts of critical data in cloud servers. As a result, the executives and team members might have updated access to real-time data and vital information to help them make better managerial decisions.
The availability of databases allows projects to follow planned deadlines and promotes instant data sharing, which facilitates team collaboration. So get construction software to expedite instantaneous information access to all your company members for better transparency in operations.
Enable Better Collaboration
One of the significant benefits of many software solutions is having multiple users working on the same project simultaneously. Collaborating and communicating better with other team members can produce desirable results.
Collaborating on your projects can be simple when using the right software. Integrating your construction management software with other solutions like managing cost/change orders, issues, submittal, and so on will help keep your entire team organized and effectively working for the same data sets.
Enjoy a competitive advantage
Construction management software gives you the capabilities and tools necessary to control your project more effectively than you could handle it by hand. As a result, get a leg up on your competitors by being able to complete quick and accurate takeoffs and estimates to deliver better bids.
By completing takeoffs faster, you can build more time to review and double-check your estimates and bids. Get your estimating team to meet your recommendations ahead of schedule to submit everything on time.
Nowadays, maintaining an acceptable standard of quality is a necessity. Construction software helps project managers consider design, architecture, maintenance, and building costs to deliver the highest quality to the project.
On the other hand, every organization needs to grow and expand with time, and so are construction firms. Construction software can change an average business model into a successful one and help companies diversify in many varied fields. Contact AECIS to make a trial!
Get notification
when we update the latest article?